Learn How to Make MORE Money,
Create MORE Cash Flow, and Do MORE Deals with
Our Affordable Real Estate Investment Training
Get instant access to our collection of over 300 streaming video & audio
lessons covering a dozen real estate investing topics.
Whether you are just getting started or have been in the business for years…
you are guaranteed to learn new techniques and strategies that can be put to use immediately. You will learn how to find dirt cheap houses without using a broker and creative, low-risk ways to buy or control real estate without getting bank financing PLUS how to create consistent cash flow with your real estate business.
Even if you have no experience, no credit, and very little cash…
you can learn how to make money with real estate. Our training program is your blueprint for success and is designed to help you reach your financial goals faster.
We will teach you simple low-risk techniques…
to help you get started so you can see results fast. Soon, you'll be able to live the boss-free, stress-free, alarm clock-free lifestyle you dream of.  Hundreds of our students have already achieved financial freedom.  We're ready to teach you too!
What Do You Want To Do?
CashFlowDepot's training covers a dozen
real estate investing topics, including…
Get Started
Getting started is the hardest part. But we make it simple with low-risk training. We will teach you how to make money without buying houses.
House Flipping
There's an art to flipping houses and avoiding risk. Learn to buy the right houses at the right price then sell them quickly for a huge profit.
Find Private Lenders
Bank financing takes too long! Learn how to find and work with private lenders who will fund your deals fast.
Become a Landlord
Your path to financial freedom! Create monthly cash flow and build wealth. Learn how to buy the right houses which will attract the best tenants.
Real Estate Wholesaling
This is the fastest way to make money. Learn how to make $3,000 or more within 30 days without buying or fixing houses. No license required.
Highest Bidder Sales
A unique system to sell any property in 9 days. This can be used for your flips, wholesaling or real estate you control with an option.
Real Estate Options
The ultimate low-risk and low-down technique. Turn a simple contract into cash quickly.
Buy Foreclosures
Learn money-making opportunities before, during and after foreclosure – plus how you can make a profit while helping homeowners avoid foreclosure.
Mobile Home Investing
There is a huge demand for affordable housing like mobile homes. It takes less cash to get in to mobile home investing and there is very little competition.
Get Better at Negotiating
Negotiating is the highest paid skill you can learn. We'll teach you how to buy real estate at better prices and with easy seller finance terms.
30 Day Money Back Guarantee
When you sign up for a CashFlowDepot lifetime membership you are fully protected by our 100% money-back guarantee. If for any reason you are dissatisfied with the membership or simply decide not to use it, request a refund within 30 days of signing up. We'll promptly refund your money.
What our members say…
"CashFlowDepot introduced me to strategies I am putting into action. It's a great way to network with other entrepreneurs. Thank you for sharing your knowledge about real estate."
"CashFlowDepot with its hours of recordings, a forum to ask questions, a file vault with RE related paper work, and of course Jackie to answer your questions, and send you more stuff, and referrals, is literally a treasure trove."
"CashFlowDepot is the one source of all real estate information at the lowest cost anywhere.  It is a professional site which expands on the keys we learned from the legendary Jack Miller."
Real estate can be your path to financial freedom!
With a CashFlowDepot Lifetime Membership you can get the training you need from the comfort of your home and at your own pace.  There is no need to spend money on expensive seminars, airfare, or hotels.  All the training and support you need is right at your fingertips at CashFlowDepot.
You'll be learning from successful investors…
like the legendary Jack Miller, Jackie Lange, Lonnie Scruggs, Peter Fortunato, Quincy Long, and David Tilney.  They each have 20 to 50 years of experience so you know you'll be learning from seasoned pros!  With a lifetime membership, you can read their ebooks, watch their videos, and listen to audios about the best ways to make money with real estate.
You'll get instant access to training…
covering a dozen real estate investing techniques and strategies.  You may want to start with a strategy like wholesaling, then transition into doing Highest Bidder Sales for bigger profits.  These techniques are ideal for generating large chunks of cash.  When you're ready to start building cash flow, we have the training you need to buy houses subject-to the mortgage or with a master lease so you never need to get bank financing.
Here's some of what's included with
a CashFlowDepot premium membership…
Real Estate Profit Secrets
Real estate wholesaling is a simple, low-risk way to quickly make $5k to $25k. This seminar will teach you how to find deals and buyers plus how to get paid top dollar for the houses you find.
Twelve Step Road to Riches
Jack Miller teaches you the 12 key steps to real estate success and financial security. This seminar is ideal for those who are just getting started and for seasoned investors too. You'll learn low-risk ways to make cash and cash flow.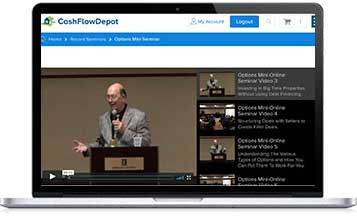 Options Mini Seminar
How do you get started in the real estate business with no cash, credit, or connections? With option contracts! Short term options can produce $1k to $10k within a few weeks without buying houses or getting loans. Long term options produce even more.
Negotiation Mini Seminar
The secret to a great negotiating is to make the other party feel like you weren't negotiating. This seminar will teach you everything you need to know about effective negotiation. Negotiation is the highest paid skill you can learn!
Movers and Shakers
Seven successful real estate investors share their best strategies and teach you how you can duplicate them in your market. Learn how to get the best leads, how to identify the best opportunities, and how to cash in big time!
Private Money Magnet
Learn how to find and work with individuals who will quickly lend you money for good deals. There's not "one" right way to work with private lenders. It's better to customize each transaction to fit the lender's needs and your needs.
Distressed Market Strategies
This seminar will teach you how to survive and thrive during the next real estate crash which could be worse than the 2008 meltdown. Now is the time to learn how to spot the signals and how to take advantage of the opportunities to come.
Ultimate Mobile Home Bootcamp
Learn how to make money with mobile homes, mobile home parks, plus with subdivisions and mobiles on land. This 15-hour seminar features mobile home experts Lonnie Scruggs, Dyches Boddiford, and Tony Colella. Make cash and cash flow with mobile home investing.
FLIP DEALS: Real Estate Profits on Steroids
Wholesaling is the simplest way to make money with real estate without buying houses, getting loans, or doing any repairs. Learn how to find wholesale opportunities, how to negotiate the deal, and how to find buyers who can close quickly.
Highest Bidder Sale Manual
Learn how to aggressively market real estate to get it sold in about two weeks and for top dollar. This step-by-step system can be used for houses you own or for properties you simply control with an option.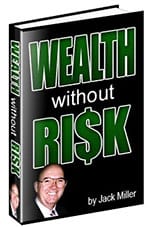 Wealth Without Risk
Learn to use the power of options to acquire real estate and build wealth. You won't need much cash and you will not need to use bank financing. Discover how to make the quantum leap from merely "earning a living" to creating your own real estate fortune.
Deals on Wheels
This is Lonnie Scruggs' best seller and the "gold standard" for mobile home investing! Learn how to find, buy, sell & finance used mobile homes for big profits and cash flow.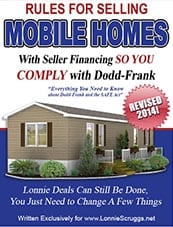 Rules for Selling Mobile Homes
In 2014, the Dodd-Frank Act changed the way mobile homes can be sold with seller financing to owner occupants. This Special Report will explain how you need to modify selling mobile homes with seller financing so you comply with the Dodd-Frank.
Landlord Tenant Survival Manual
Learn how to be a successful landlord by finding the right houses and attracting good tenants who will stay in your properties for long periods of time.
Insider Secrets to Fixing and Flipping
Learn how to find good properties to rehab then sell to retail buyers. Plus discover creative ways to buy without using bank financing and calculate which repairs will create the highest returns.
Negotiations
Learn to become a pro-negotiator without the seller even realizing you were negotiating. You'll learn specific things to say and not say when talking to sellers. Plus, you'll learn little tricks for getting the best possible price or better terms.
Foreclosure Fortunes
Learn how to take advantage of foreclosure opportunities before, during, and after a foreclosure auction. Get details about where to find the best deals, what to avoid, and how to get the money to buy them without going to a bank.
These calls are a gold mine of information! We have interviewed almost 100 real estate investors – everyone from 40-year industry veterans to people who just did their first deal – so you can learn from their experience.
We have almost 300 calls recorded covering over 20 real estate investing topics.
The more you learn…
the more money you will make!
Our Lifetime Membership is available anytime…
of the day or night! (even at 2 a.m.) You can watch complete recorded real estate seminars from the comfort of your home. You don't need to spend $1,000's of dollars on out-of-town seminars, airfare or hotel expenses.  You can get all the real estate investor training you need with a CashFlowDepot Lifetime Membership.
You'll learn everything you need…
and we do mean EVERYTHING…to make MORE money and MORE cash flow with real estate!  It's the most complete real estate investor training taught by the most experienced real estate investors.
Just a few deals a year can have a major impact on your life…
Even if you don't make a full time business out of real estate investing.  Real estate can provide monthly cash flow, wealth accumulation, and tax savings not available with any other type of business.
With access to our 24/7 training
you will learn…
How to become Financially Secure & Independent!
How to AVOID RISKS yet still make large chunks of cash
The easiest way to get started without cash or credit
How to buy houses without getting bank financing
How to WHOLESALE more houses in one month than most investors do in a year
How to help desperate sellers sell their house in 7 days
How to make consistent cash flow without using banks or lenders
The best marketing strategies for finding motivated sellers
Negotiating tricks for getting better prices or terms every time.
How to make money with lease/options, subject-to, highest bidder sales…
and MUCH more
It's time to make a decision for your financial future
If you aren't 100% certain of your
future financial security…
it's time for you to make the decision to become financially independent. This will be an easy decision! Either you're happy with your lot in life or you're not! Either you've already provided for your family's financial security or you're willing to bet their lifestyle on your employer or the government. It's up to you to take action now before time passes you by.
Take control of your
financial future!
You can, as a real estate entrepreneur.  Get access to the the training and mentoring you need to succeed.  We're here to help you be successful.
Now is your time to seize this opportunity and
create financial freedom!
Become a Lifetime Member Today!